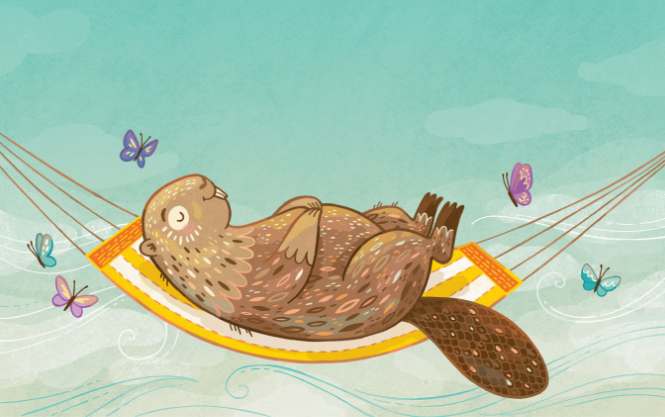 Artwork by Anni Betts from Breathe Like A Bear 

Midsummer. Here in the northeastern US, it's sticky and HOT. Kids are bored. I keep hearing "I have nothing to do!" (To which I say, oh great! I have plenty of chores for you—and then they head for the hills ) 
Turns out doing nothing is really good for both kids and adults, and it's truly important for our brain health. 
"When you don't give your mind a chance to pause and refresh, it doesn't work as efficiently...taking breaks can improve your mood, boost your performance and increase your ability to concentrate."(Cleveland Clinic Blog, "Why Downtime Is Essential for Brain Health") 
It's critical to find downtime. As in, actually doing nothing. And I'm sorry to say that parking it in front of Netflix, or scrolling Instagram, don't count—your brain is still processing in both of those cases. The idea is to let it completely, totally rest. (I know, I get that "aaahhh I'm not getting anything done" feeling too. Let it go!) 
And although for many of us, schedules don't necessarily don't let up in the summer, it's critical to have some time on the calendar that's totally blank—for ourselves and for our kids. 
Inspired by downtime, I created the simple "Do Nothing" mindfulness exercise in my book Breathe Like a Bear. And I wrote a song, "Just Be," to go with it, which has clearly struck a chord with fellow do-nothing-ers, as it's been streamed nearly a million times. 
(You can find the song on Spotify, and watch a Zen Sessions for Kids episode where I read the Do Nothing Moment and sing Just Be.) 
So if you can today, find a comfy spot, and maybe close your eyes, even if it's only for a few moments. Let your body feel heavy, and just breathe. 
Here's to doing nothing, 
Kira