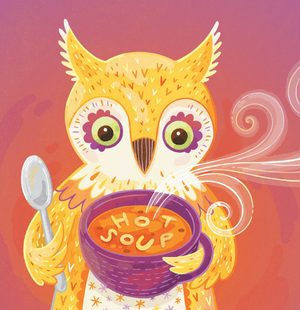 Artwork by Anni Betts from Breathe Like a Bear
 
As I type this, I'm sipping hot broth to soothe my wicked head cold ('tis the season, as they say). 
Feeling under the weather, with the shorter days and chillier temperatures–it's all making me feel a bit low-energy, and that might be the same for the little ones in your lives, too. When we feel like we're dragging kids out of bed in the morning, struggling to get them to put shoes on and head out the door, or like they just have no motivation to focus on schoolwork…it makes it hard for everybody. 
Here's a quick and easy exercise that helps generate positive, focused energy by teaching little ones how to work with their breath. And…it's called Hot Soup! 🥣 (You'll never guess what made me think of it today. 😆)
Just listen and follow along with me right here. (It's also in my book, Breathe Like a Bear.) 
With its fun and kid-friendly concept, this quick exercise encourages a pattern of breathing sometimes called  "breath of fire"–a long inhalation with short, repeated exhalations, which helps us focus our attention and wakes up our energy. It's also said to help reduce stress, boost brain function, and improve respiratory health.   
I hope you'll give it a try. Wishing you good health and lots of positive energy! 💕