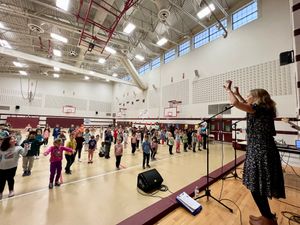 Last week, for the first time in more than TWO YEARS, my band and I got to go back into a big ol' elementary school gym and rock out with hundreds of children. (Good news - we remembered how to do it! 😂)  
And we came back with a bang: in the space of three and a half hours, we did four Rockin' Yoga shows for 725 children. It was a blast! 
The mix of kindergarteners, first and second graders were so incredibly happy to move their bodies, sing and dance, and clap along with our rhythm games. We went on jet planes and roller coaster rides, and took long, deep breaths like hibernating bears. 🐻🐻🐻 
Many teachers commented to us that they were amazed at how engaged the children were–and that's music & movement for ya! It's an incredibly powerful and beneficial combination for young children. 
I hope you're finding some time to sing, move, and dance where you are too! ☀️💕