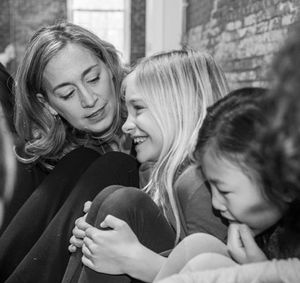 Photo by Hilary Murphy

Anyone else ever finish a child's sentence for them?  
Or otherwise have a hard time waiting patiently to let them get all their words out?  
Or ask "leading questions," like "How was school today, good?"  
(Kids know the answer you want here.) 
Guilty, guilty, and yup.  
Every time we do this, we lessen the chances of connection.   
Maybe we can try questions like: "Tell me something weird that happened at school today." Or "If you had to describe what you did today to an alien, what would you say?" Or "What made you laugh today?  What made you mad?" 
It's more effort. And it's so important.  
———————————————— 
Missing scenes like these, as we all are.