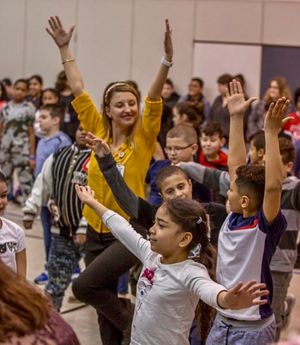 Photo by Hilary Murphy

The most important job in the world? 
Teaching. No question in my mind. 💫 
Teachers are literally spending all the hours with all the children who will (soon) grow up to inherit all the craziness going on in the world. In most, if not all cases, teachers are undervalued, underpaid, and under-resourced.  
Are you hoping, like I am, that today's children will grow to be kind, considerate, caring citizens of the world? Then you know what we need to do?  
SUPPORT THE TEACHERS.  
Many, many teachers dig into their own pockets to pay for extra supplies, give their students all kinds of support beyond academic, and don't know what "off the clock" even means. They also pivoted in unbelievable ways these past two years, many while parenting the whole dang time. 
Let's do them a favor this Teacher Appreciation Week and NOT buy them a candle or a knickknack or a doodad for their desk.  
Let's ask them what they need.  
Many teachers have wish lists online for classroom supplies that their schools won't or can't provide. Lots of them would prefer we "pass the hat" among families and just give them cash. Let's not guess or assume–we might be surprised at what they actually, really want. 
Ask. It's the best way we can show our support!  
Teachers: I'm grateful for YOU. 💕    
(Want to make a teacher's job easier? Share some of my free children's mindfulness resources, designed to help their young students release anxiety, focus their attention, and calm themselves down. These are simple, fun audio exercises, they just need to press play!)