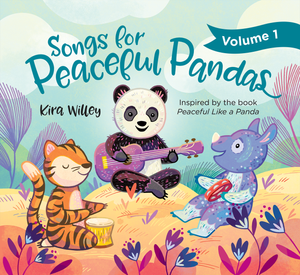 The only thing I like better than making music is sending it out into the world for you and the children in your lives. It makes me HAPPY. 💫 
It's release day for my sixth children's album: Songs for Peaceful Pandas, Volume 1!
This is the first of two albums that complement my children's mindfulness book Peaceful Like a Panda.
EVERY song in this new collection has a corresponding mindfulness exercise in the book! ✨
These sweet and sunny tunes have themes of self-awareness and empowerment, and will encourage young children to tune in to themselves, engage their senses, and move their bodies. The whole collection is energetic and uplifting, with tons of rich harmonies and a catchy, indie-pop vibe, thanks to amazing producer Dave Padrutt. 
My faves from this fun bunch of songs: 
🎶 Strong, Smart, Kind - all about kid power, perfect with the "I Am Smart" affirmation exercise from the book 
🎶 Up In the Air - dreamy and magical, to go with "Hot Air Balloon" breath  
🎶 Shake It - with "Puppy Shake," this combo is guaranteed to get the ya-yas out!  
🎶 Peaceful and Calm - a sweet and musical way to teach "Starfish," or five-finger breath 
🎶 I Am Here, It Is Now - a sing-along reminder to make today your favorite day  
This songs-and-book combo is your new best friend…it's the perfect pairing to help focus and calm children in a super fun and mindful way! ✨