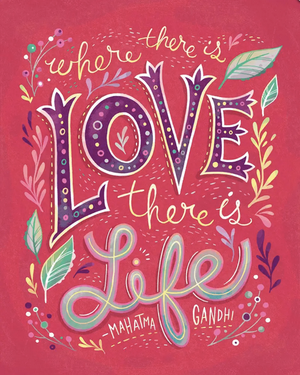 This beautiful hand-lettering by Anni Betts has me thinking about how love is woven throughout all of our lives, all the time, even if we don't always feel it. Do we really need a holiday for it?  
I don't know the answer, it's just on my mind. To me, it sometimes feels like Valentine's Day is more about buying the right card or flowers than anything else. 
If it feels this way to me, what might it feel like to children? 💕
As we navigate Valentine's Day and beyond, let's keep in mind that holidays–and other "special" occasions–can be fraught for many young children: the child who's feeling social anxiety around the Valentine exchanges at school, or is terribly overstimulated by the classroom party with all the sugary treats. Or, the child who simply isn't feeling the love at home that everybody's talking about at this time of year.  
Simplifying spaces, quieting rooms, taking slow, deep breaths–all can be helpful and comforting here, both for little ones and for you. Let's lead with love for all our children, today and every day–and the rest will fall into place. 💕