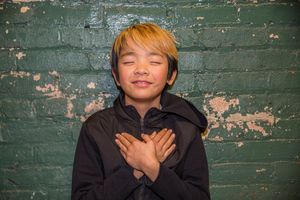 Photo by Hilary Murphy
Well that went fast. Where did January go exactly? If you're feeling like time is going a mile a minute, you're not alone. And while the temptation is to move faster, to do more to get it all in, the best thing to do is actually the opposite.  
Stop.  
For real. Lift your head up, look around, notice where you are. Take a long breath in, and let it all the way out. What do you see? Take another breath in, and let it out. What can you hear? Try a few more deep breaths in and out. How do you feel?  
This is mindfulness. As simple as that.  
Practicing simple mindfulness on a consistent basis (and yes, it can be very quick) can help us feel present, like we're a part of the moment we're actually in, instead of dwelling on the past or planning/worrying about the future (which we all do).  
One of the most effective ways to bring yourself into the present moment is deliberately engaging your senses. Listening exercises in particular are short and fun, and work beautifully with children.  
Here's a short, simple mindful listening activity to try with your students or your own kids. Focusing our attention on sound brings our awareness to what's happening right now–which helps soften that feeling of time rushing by!