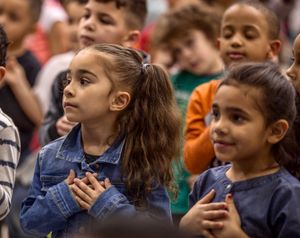 Photo by Hilary Murphy
One of my favorite calming breath exercises to teach children is Starfish: with our fingers spread out wide, we trace each finger up and down, breathing as we go. I tell kids that it only takes a few long, deep breaths to send our bodies and brains the message that everything's ok, that it's safe to calm ourselves down.  
All of my mindfulness exercises, including Starfish, are based on a large body of research on the physiology of deep breathing (in addition to the fact that I've seen it work time and time again). But that body of research overwhelmingly looked at adults.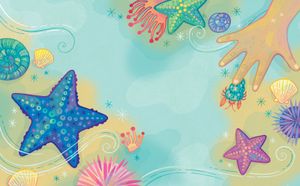 Artwork by Anni Betts from Peaceful Like a Panda
A just-published study, the first of its kind involving young children, now provides concrete evidence for what I've taught all along. Researchers used a visual guide to encourage children to take about four long, deep breaths in the span of just under a minute. 
The findings were remarkable–notably, a significant decrease in the children's heart rates. The main takeaway, from the lead researcher: "The fact that children of this age can downregulate their stress physiology–even when they're relatively calm–offers promise that the technique will be even more effective when they're frustrated or upset."   
Yes! Isn't this exactly what we're working toward - helping children practice this skill consistently, so it's there for them when they really need it?  
And it took about one minute. (Guess how long each of my Mindful Moments for Kids audio exercises is? And how long the mindfulness activities in my books are designed to take? You guessed it.) 😊
So now that you know how quick an effective mindfulness practice can be, how can you get started with your kids or students today?   
(A few ideas: listen to Mindful Moments for Kids, watch my free Zen Sessions for Kids series, or try any of my children's mindfulness books!)