We have a bunch of school visits coming up, and I can't wait to get back to performing Rockin' Yoga assemblies! My band and I have a blast at these shows–we chat with the students as they're coming in (discussing important topics like favorite colors and the best breakfast food) and give as many high fives as we can at the end. The assemblies themselves, usually for a few hundred kids at a time, are super high-energy and packed with singing, dancing, yoga and mindfulness. The kids, the teachers and the parents all love it.  
Then we pack up and load out, and I get in my car by myself and just SIT THERE.   
In silence.   
And breathe.   
It can take a while before I even start driving.   
I'm an "extroverted introvert" (I've decided 😀). I LOVE performing, teaching, singing, and talking on big stages–and when the event is over, boy do I need time to recharge. Get me to my couch!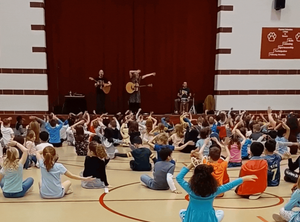 We need to respect that many children are the same way, but they may not even know or understand it yet. (It's often, though, why that meltdown happens during the loud birthday party or in the crowded mall...and can be the real story behind the child who's labeled "shy." PLEASE don't do this.) 
We teachers and parents have such an important role here: helping children understand, first and foremost, that there's NOTHING wrong with them, they're perfect just as they are (introverts are often deep thinkers, highly creative, empathetic, the list of positives goes on). Then, we have to help them figure out what they need to take care of their precious selves.   
There's a lot written on this topic; and many helpful articles like this one, but here are some key points for you: Respect an introverted child's need for alone time. Don't push them to be with others, or to talk when they're not ready (but when they do open up, zip it and listen). Talk through social situations beforehand, and help children practice what to say when they need something or when it's time to go.   
Help them take breathers–during a long family gathering, for example, make plans ahead of time for a break, so they know they've got one coming. And then, maybe give them headphones and put on a dreamy song, like How to be a Cloud. Let them float off into their own world, until they're ready to join this one again. 💕 
Cheers,  
Kira 
PS - Mindfulness can help introverted children–and all children–develop self-awareness, which leads to them understanding and loving themselves, and being better able to practice self-care. Stay tuned for an upcoming free training I'm teaching for parents, homeschoolers, and educators, all about the three essential elements of mindfulness with children! ✨