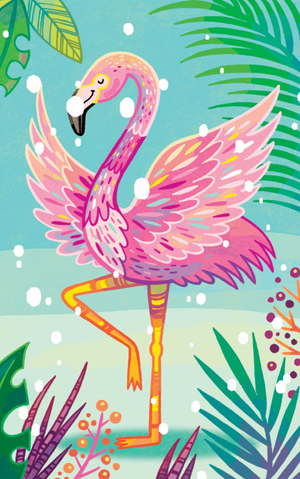 Challenge your balance, literally, with "Flamingo" from Peaceful Like a Panda! (Art by Anni Betts)
 
Does the holiday season have you feeling a bit overwhelmed or off balance? 
I get it! It's that special time of year with lots of extra stuff–sparkly cookies on the counter, holiday movies to watch, lots of gatherings and people and gifts and you name it. Those things aren't bad, of course–but for our own well-being and that of our children, we need to try and find a balance.   
Kids having lots of screen time? Get outside for a walk, even if it's chilly.  
Too much sugar? Balance it out with plenty of water and some carrot sticks.  
Finding ways to keep it a little more even helps all of us from feeling the stress and overwhelm that this season often brings.  
Here's something that might help you and your kiddos: it's my song about this very subject, called "Balancing Act," from my newest album, Songs for Peaceful Pandas Volume 1–I hope you enjoy!