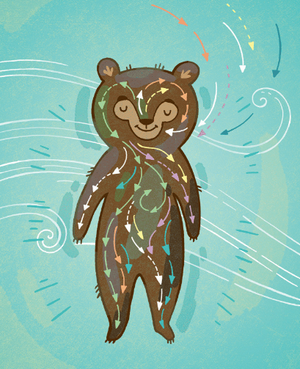 Artwork by Anni Betts from Breathe Like a Bear
Is it me, or is time speeding up? 😳This time of year feels rushed and hectic, and I'm willing to bet you're feeling it too–especially if you have young children in your life.  
It's so important to BREATHE (ok, I know you're breathing…I mean deeply, intentionally). Not only will it help keep your nervous system "online," (as in, calm you down) but it's a simple, quick way to bring yourself back to the present, which can help alleviate that time-going-too-fast feeling.  
How about a super-simple technique that you can literally do anywhere, anytime, that works for all ages?  
Bring your attention to your breath, and then "follow it" as the air travels in and out of your body. Pay attention to where you feel it: in your mouth, nose, or belly, for example. And see what else you can observe, like the quality of the air or its temperature. Doing this for even 30 seconds has a calming, grounding effect that's incredibly helpful when things feel a bit nuts.  
Head here to listen along as I teach the family-friendly version of "Where is Your Breath." (It's also in my book Breathe Like a Bear). 😁