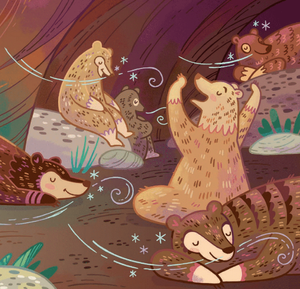 Artwork by Anni Betts from Breathe Like a Bear Board Book
 
I read a study recently that questioned the effectiveness of mindfulness in schools.  The model was that teachers, with minimal training, introduced mindful practices to students with the expectation that they would do it regularly at home.  
As I got into the fine print, I read this comment from one of the researchers: "Very few students (less than 20%) took any interest in doing the home practice—a key part of the program." 
It went on to say that the "model of having school teachers, with very little mindfulness experience or training, teaching mindfulness to kids and then expecting them to practice at-home mindfulness on their own is ineffective." 
But the headline of the article–the attention-grabber–was "New Study Finds School-Based Mindfulness Program Doesn't Work." 
Seriously? 😡😡😡  
Um, of course it didn't work. They didn't like it, so most of them DIDN'T EVEN DO IT!  
When working with mindfulness and children, it's absolutely critical that the practices and activities we use are fun and engaging. We can't treat children like small adults in this department–they're not interested in how their amygdala works and whether or not their nervous systems are regulated. They do, however, love to pretend they're bears hibernating for the winter, taking long, deep breaths in and out in their cozy caves…🐻  
Not making it engaging and fun–something children actually WANT to participate in–is a mistake I see often in school settings.  
And while we're on the subject, here are some other factors which will make mindfulness practices ineffective:  
➡️ Introducing them DURING a meltdown (they literally can't hear you when they're having Big Feelings)  
➡️ Not practicing them consistently 
➡️ Assuming they'll take the place of mental health services from a licensed professional  
➡️ Not teaching from a trauma-informed perspective  
➡️ And just one more time: 😁not making the practices kid-friendly, age-appropriate, and FUN!  
Practicing mindfulness with children can be short and sweet, as well as engaging and fun. Here's a quick, active one to try that will help children focus in no time. It's called "Stop & Go," and I hope you'll give it a try with your little ones!