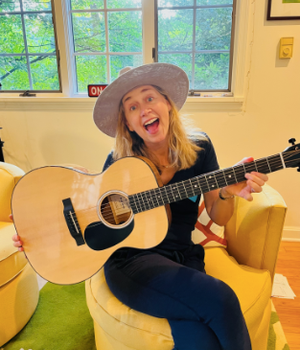 For the first time in ages, I have a new guitar! It's a Martin (if you know, you know) and I'm SO fired up about it.💥 
I forgot how inspiring it can be to have a sparkly new instrument–as soon as I got it home, I sat down and spent I don't know how long playing it.  
You know why I don't know how long it was? Because I was completely, totally absorbed in what I was doing. 🎶
I've said it before, and I'll say it again (probably many times): mindfulness does not need to mean sitting still, especially with children. Anything that brings us out of distraction and focuses our attention on the "now" is a mindful activity.  
This is why I incorporate music and rhythm into mindfulness with kids–because music is not only incredibly engaging and fun, but it's also a powerful way to fire up and focus the brain, and bring our attention to what we're doing in the present moment.  
(It's why I teach a "Ukulele 101" training inside my Rockin' Yoga membership, to encourage teachers to give ukulele a try in their classrooms–and they're crushing it.) 
How can you incorporate music into your day with your children? How about a dance party in the kitchen, or a call-and-response rhythm game in the car? Or make up a special "Kindergarten Rocks!" song with your littles–they'll love it! There are endless possibilities. And it will lift you all up, I know it will. ❤️
Let me know how it goes below–I'll just be over here riffing on my new guitar!