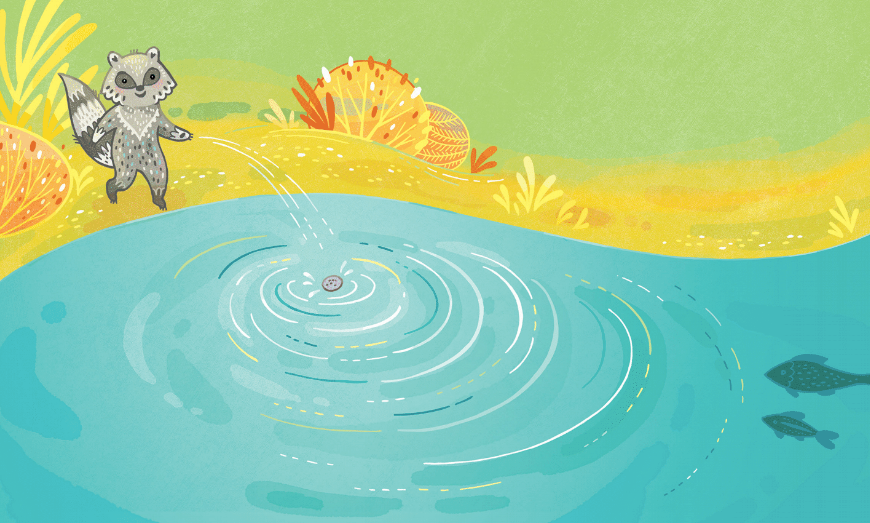 Artwork by Anni Betts from Breathe Like a Bear
If you've been under a blanket of persistent, sticky late-summer heat, the thought of cool water probably sounds pretty great about now (especially if you're landlocked like I am). But water is more than just relief from hot weather–it actually has a powerful physiological effect on our bodies.  
Water triggers the parasympathetic nervous system, which is responsible for the body's 'rest and digest' response; and helps lower your heart rate and blood pressure. Even the color blue is known to have a calming, relaxing effect. 💦
And as it turns out, simply imagining water or looking at pictures of it can have some of the same soothing effects–which is why I wrote this simple mindfulness exercise that works for all ages, no matter where you are.  
Here's "Waves on the Water" from my bestseller Breathe Like a Bear: 
Imagine you're standing in front of a lake. 
The water is flat and calm, like glass. 
You have a stone in your hand, and you throw it in the water. 
When it lands, it makes little waves on the water. 
In your mind, watch the little waves as they go farther and farther out, getting smaller and smaller. 
Watch the lake in your mind until it gets totally calm and flat again. 
Take a long breath in, and let it all the way out.
Aaaahhh… 🌊