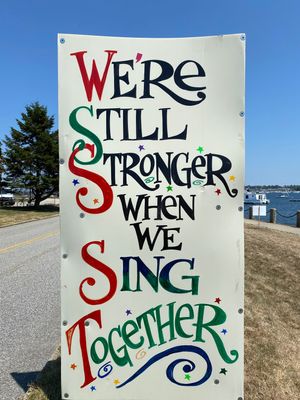 Sign at Newport Folk Festival entrance
 
I was reminded this weekend of the incredible, magical power of music. 🎶
At the Newport Folk Festival it was UNBELIEVABLY hot–some would say miserable–but it didn't matter. Brilliantly talented artists brought people to their feet, beautiful performances moved audience members to tears, the crowd sang as one. 
(AND I was so lucky to be there when one of my songwriting idols made a surprise appearance: Paul Simon–he finished with a solo Sound of Silence–I'm still recovering!) 
You know that feeling: you're at a concert, the band plays the hit song that everyone knows the words to, the whole place starts singing along, and all of a sudden you feel like you're best friends with the people around you?  
That's oxytocin, the "love" hormone, being produced by our brains, which are wired to connect with other humans. It's a powerful physiological effect which creates a feeling of bonding and trust with those around us.  💕
I've used group singing throughout my career to bring people together, and you can too. With children, it can be as simple as a singalong (don't overthink it–they don't care how perfectly you sing). My Kindness Mantra is an easy one to try, with simple lyrics, and you can even do it as a call and response.   
Plus, we can't exactly have too much kindness these days. 😀 
I used Kindness Mantra song during a training I led at the National Kids Yoga Conference, and ended up recording the group–you'll hear the trainees' beautiful voices in this song! 🎶