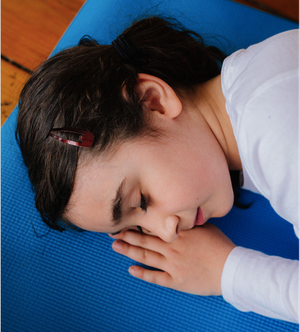 Young children's brains work incredibly hard every day to absorb information, adapt to social situations, and observe the world around them. We adults (typically) know when we need a break from the constant input of stimulation, but children are still learning to listen to the cues from their bodies, and count on their adults to help.  
Unstructured downtime is critical for kids to be able to process all the information their brains receive on a given day. It's also absolutely essential for promoting creative and cognitive development.  
From Psychology Today:
"It's crucial for children to have the ability to downregulate. Downregulation occurs when the brain can go on 'automatic' and doesn't have to actively process new information.  
The more complex cognitive functions can then disengage, and the brain shifts into a state in which it can relax and regain energy." 
Make sure children have some completely unstructured downtime every day. This can be quiet time with a book, an aimless walk outside, or building a fort with pillows.  
If you're a classroom teacher, it can be time for students to look at books of their choice instead of screens, lie on the rug, play freely, or rest with heads on their desks. Children will recharge as their minds get a break from keeping track of things. 
(To be clear: unstructured playtime means no designated activity, and no directions from grownups...take a deep breath and resist the urge to make a bunch of suggestions. 😊) 
And I'm sorry to say that hanging on the couch with the iPad doesn't count. Over-exposure to screens can overstimulate and agitate kids' brains, exactly the opposite of a break. Most kids have had enough—many way too much—screen time in the past year. They may not know they need a rest from it, but we do.   
Here's a simple mindful exercise from Breathe Like a Bear that will help you and your child try what can be difficult for all of us sometimes: doing nothing!  (You can also watch me read it, and sing "Just Be," in the newest Zen Sessions for Kids episode.)  
 
Do Nothing Moment

Does it feel like there's always something you're supposed to be doing? 
There are places you have to go, and lots of jobs to do. 
And everyone seems to be in a hurry! 
Well, for this moment, there's nothing you have to do. 
Except, of course, breathe. 
Breathe in, breathe out. If you want, close your eyes. 
Breathe in, breathe out. 
Breathe in, breathe out.
 
How do you give your kids downtime? I'd love to hear from you!