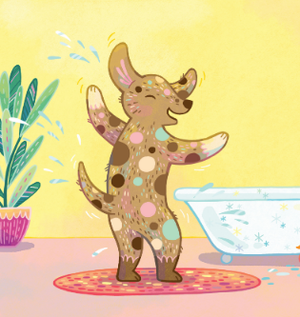 Artwork by Anni Betts from Peaceful Like a Panda
 
One of my favorite yoga teachers likes to say that movement is simply a vehicle for sensation in the body, and that that sensation is a tool for self-awareness.
The movement itself–in addition to its clear physical benefits, of course–helps us become aware of our bodies in space. Simple physical practices can lift us out of distraction (thinking about the future, or dwelling on the past) and into the present moment, and how we're feeling in it.  
This self-awareness is a key component (I'd actually say THE key component) to helping children self-regulate–it's just not possible for them to manage and control their bodies without first being fully aware of them!  
Here's a favorite movement that young children get a real kick out of (you can do it right this minute too, go ahead smiley). It's "Puppy Shake" from my book Peaceful Like a Panda:
Imagine you're a puppy, and you just had a bath.
You're all wet!
Give your head and shoulders a tiny little shake.
Give your arms a medium shake.
Give your legs a big shake!
Give your whole body a HUGE shake!
Can you shake your tail?
Shake, shake, shake, little puppy!
Shake shake shake!
Start to slow down.
Slow down a little more.
Hold your body still.
Breathe in, and breathe out.
For a little extra, I have the PERFECT song to go with this: "Shake It," from my newest album–listen wherever you get your tunes!