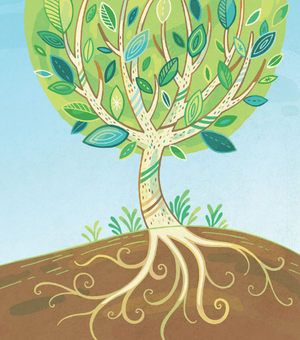 Art by Anni Betts from Breathe Like a Bear

It's Earth Day this week! And as it's really starting to warm up where I live, I'm all about spending as much time as I can outside, and trying to make sense of my overgrown jungle garden. 😂  
I love the sounds of the birds and the buzzing of bees, but it's impossible not to notice that it's a real challenge at times to hear the sounds of nature. We humans are NOISY!  
It's a great exercise in mindfulness for children (and for us) to head out the door, hold still, and listen. What's the farthest-away sound you can hear? What do you hear close by?  What sounds are from the natural world, and which ones are man-made?  
Getting outside and feeling connected to the earth is incredibly important for children's health, with the added benefit of encouraging them to be better stewards of our planet. This is what inspired my new tune, Song of the Earth.
"The whoosh of the wind, the song of the crickets 
the patter of rain in the trees… 
the crunch of new snow, the bubbly river 
the crash of the waves in the ocean.. 
Just head outside to hear what you're missing 
there's a symphony playing, if only we listen 
when we get quiet, then we can hear it 
the song of the earth" 
Song of the Earth is from my upcoming album, Songs for Peaceful Pandas Volume 1 (release date April 29; you can pre-order it right this minute!).