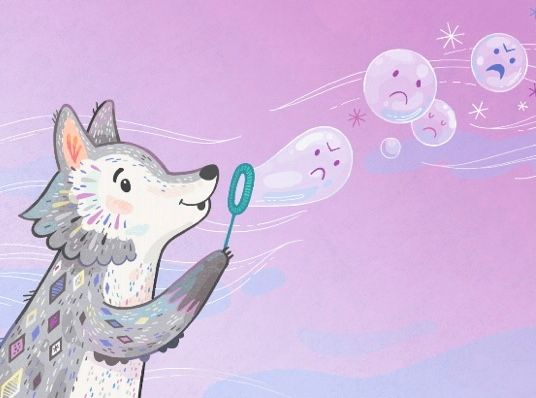 Artwork by Anni Betts from Breathe Like A Bear
 
Even though tomorrow is the official start to fall, it's been beautiful and sunny this week where I live. I'm not quite ready for shorter, cooler days—I suppose I'm having a hard time letting go of summer.   
It can be hard to let go of things in our lives—toys that have been outgrown, clothes we no longer wear—and hard to let go of feelings, too. Sometimes we hang on to them longer than we need to.  
Kids can often use a hand moving on from feelings that don't serve them anymore. I'm not talking about disregarding Big Feelings—kids feel what they feel, sometimes it's a lot, and those need to move through in due course—I mean grumpiness that lingers, or negativity that's unnecessary and unhelpful and needs to move along, thank you very much.   
One of our family favorite picture books, Zen Shorts, has this parable: Two monks come across a rude, impatient woman demanding to be carried across a large puddle. The older monk transports her across without a word, and receives no thanks. Hours later, the younger monk still can't get over that his companion carried her over the puddle. The older monk replies: "I put the woman down hours ago. Why are YOU still carrying her?"   
So good, right? 
This little story inspired the mindfulness exercise "Get Your Grumpies Out" from Breathe Like a Bear. It's silly and fun to do with your littles, and it works—for all ages. 😊 
You start by exaggerating that yukky mood—if you're feeling like a grump, then make a SUPER grumpy face, really FEEL the feeling. Then start taking big breaths in and out, to BLOW it all away!  
 
Can you make a grumpy face? I bet you can.

Make a really grumpy face!

Maybe you feel a little sad or angry today.

If you do, make a sad face, or an angry face.

Now take a really big breath in, and blow all those feelings away!

Do it again, just in case they didn't all go...

Take a really big breath in, and blow all those feelings away!

Sit up really tall. Maybe smile a little smile..

Take another long breath in, and let the air all the way out.