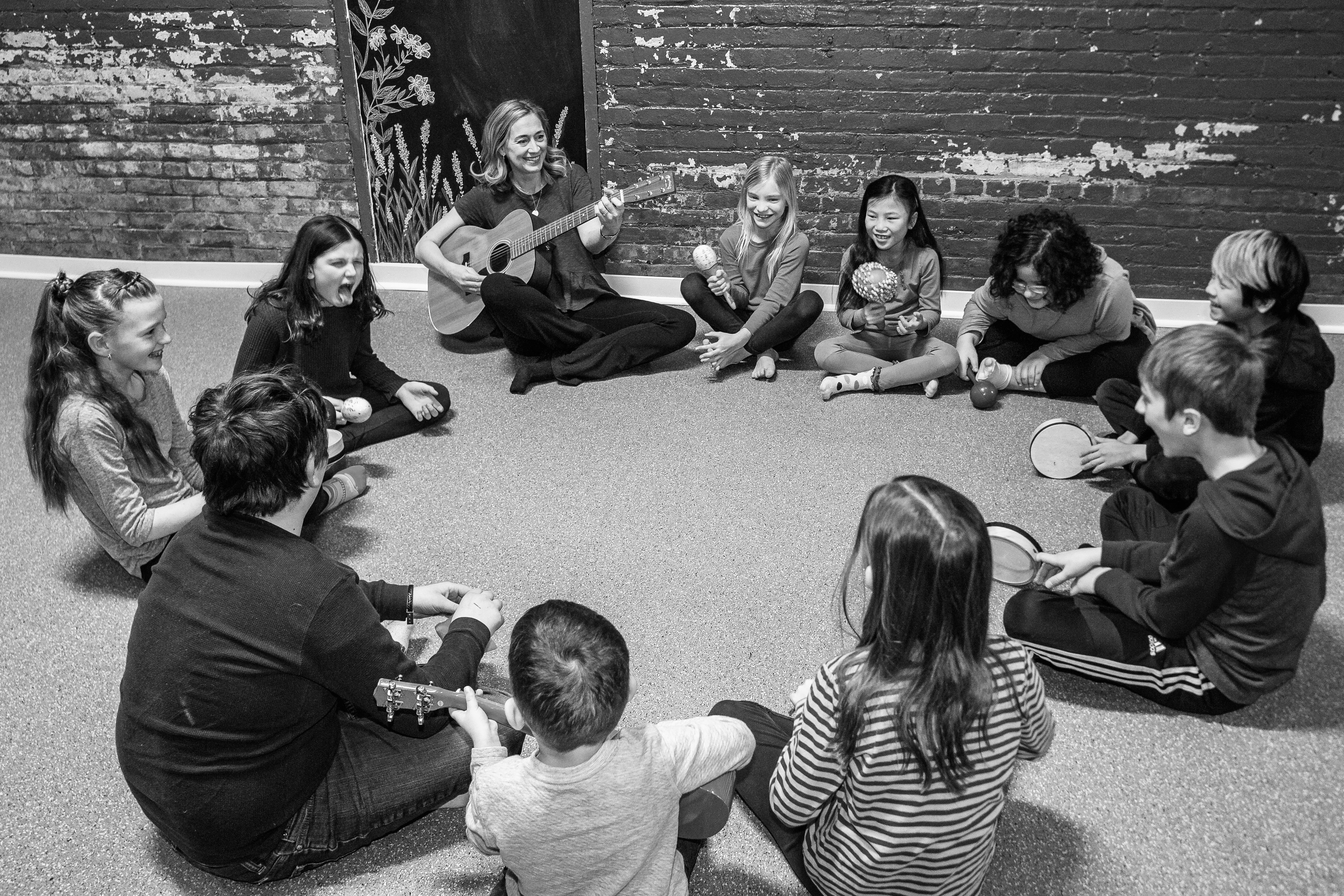 Photo by Hilary Murphy
Even the most seasoned teachers can get thrown by transition times. It's those "in-between" moments that can make the wheels come off the wagon—when kids are moving from the circle on the rug to their seats at desks, from lunch to sitting down for math, from putting away things in cubbies to lining up. 
Here's the answer: MUSIC. It could be a song you create, a fun rhyming poem you speak to a beat, or putting your own lyrics to a traditional tune. 
Listening to music actually engages more parts of the brain than listening to someone speak. 
Which means: kids are way more likely to pay attention if you're singing a song than if you're talking to them (and, of course, they hear talking all day long). 
Another powerful reason to use music to ease your transitions is that children, especially young ones, thrive on consistency and routine. Knowing what to expect is very comforting for them, and a music-based structure can greatly lower the overall stress level in the room, making your job a LOT easier. 
So, think about your classes for a moment: what transition points are tricky? Where do you lose the kids' attention and focus? Where would it be helpful to use a song or rhythm game that's the same every time? Write them down.
Now, pick one transition point you've identified, and choose an idea to try from the list below. 
(And yes, I can hear you saying "I can't sing!" and guess what? I don't believe you. Also kids DON'T CARE.)
Here are some ideas:  
—Settle-in song: at the beginning of your class or lesson, use this to get kids where you need them to be (seated in a circle, say, or quiet at their desks) for the start of class. This is important; it sets the expectation for how class begins. Kids will quickly learn to count on this song as a marker to help them transition from wherever they're coming from to your lesson. 
—Hello song: to greet each other and unify the group—maybe it's calm and quiet, or perhaps you need to bring the energy up. You could start a beat on your lap or on a drum, and go around the circle taking turns: "I have a name! My name is Mariah!" (And none of these have to be "songs," they can be spoken in rhythm, to a beat. Check out my song "The Shimmy" as an example.)
—Leading into rest time/quiet time/savasana song: use this to get children to their resting spot. Using a calming piece of music consistently will trigger deeper relaxation each time, as the kids' brains connect the song to resting their bodies.   
—Goodbye/clean up/line up song: Pick one brief message, whatever is most important to get across, and stick to it. A short and sweet song will stick in kids' heads. 
A few tips: 
—Keep songs or rhythm games short, simple, and repetitive, so everyone learns them quickly and knows what they are supposed to do. 
—Attaching information to a melody makes it memorable—find a simple way to SING what you would normally say. 
—Bonus: can you add movements to your song? Now you're engaging more of the children's senses!      
I'd love to hear how it goes. Let me know in the comments!