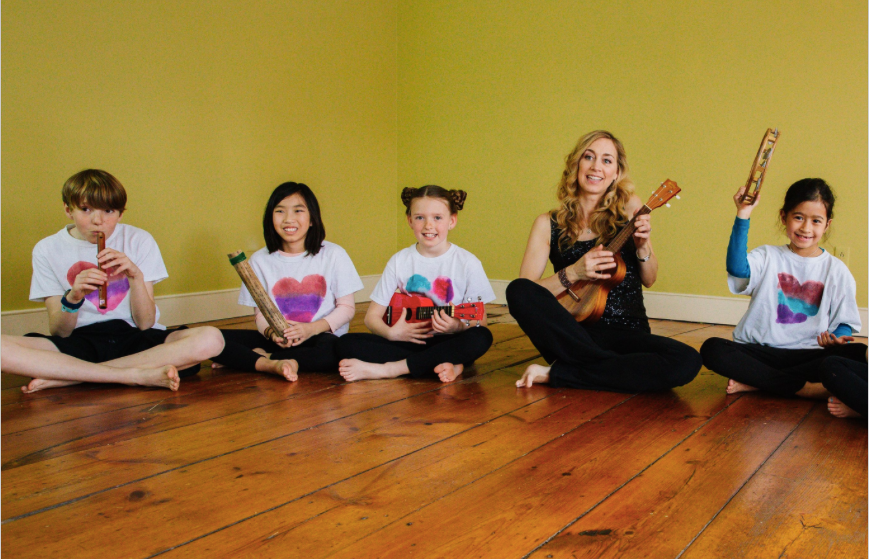 Photo by Hilary Murphy 
Excuse me? 
Let me explain. 
Children are talked to ALL. DAY. LONG. From teachers who give all the instructions in all the classes, to parents hustling kids out the door in the morning or into bed at night, to the incessant chatter from various sources of media, it's most of what they hear. 
So when you start your kids' yoga class by talking? It's not going to make much of an impression. (And your number one job as a teacher of anything is to get kids' attention.) 
Fun fact: Music and rhythm light up more of children's brains than simply processing speech does. Which means: more oxygen is flowing to the brain, putting it in an engaged, highly focused state. 
This is why, any time I work with a group of children, I begin with a rhythm activity, game or song. It works like a charm. 
So: start with a beat. A clapping game. A song, or even singing your instructions. (And resist the temptation to introduce it by talking! Just do it.) 
I have lots of ideas of how to put this in practice; I've been doing it for 16 years—and I'd love to share them with you. 
Are you teaching children's yoga, or incorporating yoga & mindfulness into your classroom? Are you new to it and needing ideas and inspiration, or more seasoned, and needing ideas and inspiration 😊
Join me for my free webinar on Thursday, October 21 at 7 PM Eastern.   
3 SECRETS FOR SUCCESS IN TEACHING KIDS' YOGA:
Your proven path to easy prep, packed classes, and happy kids
You'll learn how to: 
—Fully engage (and keep!) kids' attention 
—Give children tools to release stress and anxiety 
—Create a predictable, calming environment in your classes 
—Use music & rhythm as a teaching tool, without losing control of the group 
—Help children focus their energy 
Save your spot right this minute, and feel free to bring a friend. See you there!