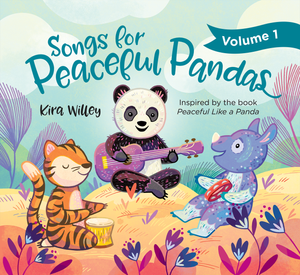 Artwork by Anni Betts
Young children learn with their bodies. Yes, for some, being told information as they sit at a desk is effective, but for most? They learn in many different ways; they need to use all of their senses, and really "feel" the lesson for it to stick.  
Music and movement are some of the most powerful ways kids can learn.  Feeling rhythm in their bodies, and moving to a tune, is incredibly impactful for them. And attaching information to a melody makes it easily memorable for kids (not to mention FUN).  
My children's mindfulness book Peaceful Like a Panda has 30 simple, fun exercises that include gentle lessons of self-awareness and incorporate social-emotional learning concepts such as kindness, gratitude, and compassion. The book has gotten amazing reviews and feedback (and is published in four languages), which is fabulous.  
But knowing that children learn in lots of different ways, I've long thought about how to make these lessons more effective for all types of learners, not to mention easier for teachers and parents to implement.  
So, I've written songs to go with every single exercise in the book.  
The first half of these songs, Songs for Peaceful Pandas Vol. One, will be out very soon! I'm SO EXCITED to put out new music for you. ☺️ 🎶✨
You can listen to the first single, Shine Like the Sun, right here!
Let me know what you think of the song in the comments! ☀️