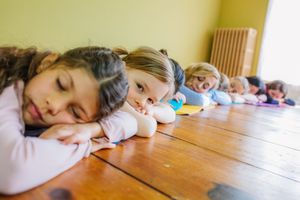 Photo by Hilary Murphy
 
It's starting to snow outside here, and I've actually been sitting just looking out the window. Not doing anything else.  
And feeling very proud of myself. 
It might sound a little silly, I know–but since I did a bunch of research on rest and the brain for a recent teacher training, I learned how incredibly important rest is for our overall health, and I'm trying to find more bits of time to do just that.  
(I'm not talking about sleep, although that's obviously critical, and most of us–and nearly half of children–don't get enough.) 
I mean resting, as in doing nothing, or something mindless enough that your brain doesn't need to work. When our brains get a break from constant processing (and yes this means scrolling), the parts in charge of super-important stuff like creativity and imprinting memories are able to replenish. Plus, research has shown that resting our minds can increase our ability to focus, and improve our mood. Yes please!  
This is NOT being "lazy." Nope! It's really important for our overall wellness. Don't worry, the to-do list will still be there in a few minutes…😊 
And for our young children, it's important that they see us prioritizing rest, so they can make it part of their daily lives as they grow. What a great reason to snuggle your little ones on the couch! 
In these last few days of 2021, my hope is that you find some peaceful time to just rest. ❄️💤✨