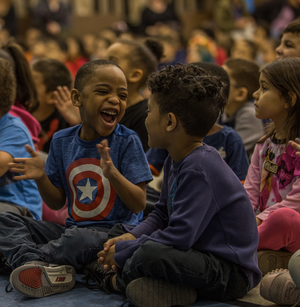 Nothing pushes my buttons more than my kids behaving disrespectfully.  Luckily they're older now, and they generally have their act together (at least most of the time). 😀 But with young children, backtalk and similar behavior can be a real challenge. It's helpful for us as parents and teachers to take a deep breath, and consider what's underneath that sass.  
The most common reason is that children are dysregulated–meaning they're in a state, as with a tantrum, where they're not able to manage their behavior and emotions. Or, they might not be getting their needs met, and they don't know how to ask. They also could be testing limits.  
And finally: they could be COPYING ADULTS. Ahem. 
So what to do? Here are a few ideas:
🍃 Consider what's age-appropriate. The younger the child, the less likely it's intentional–being respectful requires focus, which is a work in progress for young ones. 
🍃 Give them the right words to use to get their needs met. Practice situations with them before things go south. 
🍃 Do your darndest to not take it personally (a tough one I know). An unfortunate dynamic that can happen is that a "disrespectful" child can bring out not-so-great behavior in a grownup. 
🍃 Praise respectful behavior. Recognize children when they demonstrate kindness, good manners, and empathy for others.   
🍃 Teach children, and remind them often, that disagreement can occur without disrespect.   
My Namaste Song can help teach the idea of respect with its soothing melody and simple, straightforward lyrics: "I honor you, as you honor me." 🎶 Listen to it right here!
How do you help children learn to be respectful? Let me know in the comments!