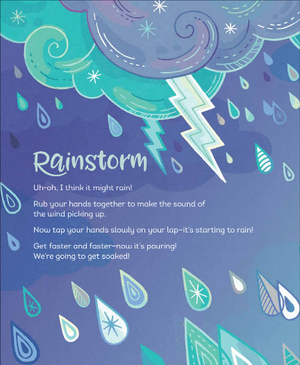 I don't mean to brag, but I can take 300 early childhood students in a school gym from wiggly and fidgety to engaged and focused in one minute.    
How? By creating a Rainstorm. 
The Rainstorm is a mindful rhythm game that uses body percussion to make the sounds of a summer storm—from the wind picking up and the first drops falling, all the way to lightning, thunder, and a vigorous downpour.  
It uses the whole body and lights up the brain. It also improves hand-eye coordination, helps develop both fine motor and listening skills, and it's FUN. 
(Especially if you teach kids' yoga, this is one you need in your toolbox!) 
Kids LOVE rhythm games, and they're incredible ways to fully engage their senses and help them focus. 
In a recent episode of my music & mindfulness video series Zen Sessions for Kids,I teach Rainstorm. (There's a written version of the exercise in my book Breathe Like a Bear.) And it's followed by a sweet after-the-rain tune, Underneath the Rainbow. 
Try the Rainstorm! (Even if you're by yourself—I won't tell.) ☺ You'll feel focused and alert in no time. 
Cheers, 
Kira