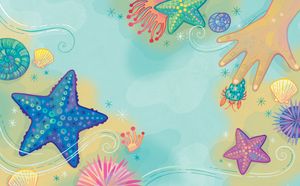 Art by Anni Betts from Peaceful Like a Panda
 
One of my favorite mindfulness exercises to teach young children is tracing each finger up and down, taking a long deep breath in and out each time. Some educators call it Five-Finger Breath, I call it Starfish (it's in my book, Peaceful Like a Panda).
Starfish is more engaging than just sitting still and breathing, as it incorporates several of your senses at the same time. You're doing a fine motor activity while paying attention to the breath, which requires awareness of multiple senses (seeing and feeling), in addition to an awareness of multiple locations in your body (your fingers, your hands, and your breath flowing in and out). 
This focus brings us completely into the present moment–the very definition of mindfulness–and the five long, deep breaths (ten if you do both hands!) have a significant calming effect on the nervous system.  
I've wanted to write a song to teach this exercise for a long time, and it's finally here: "Peaceful and Calm," from my new album, Songs for Peaceful Pandas Volume 1.  
Introduce this simple exercise to your child right here! (And make sure you do it too.) 😉