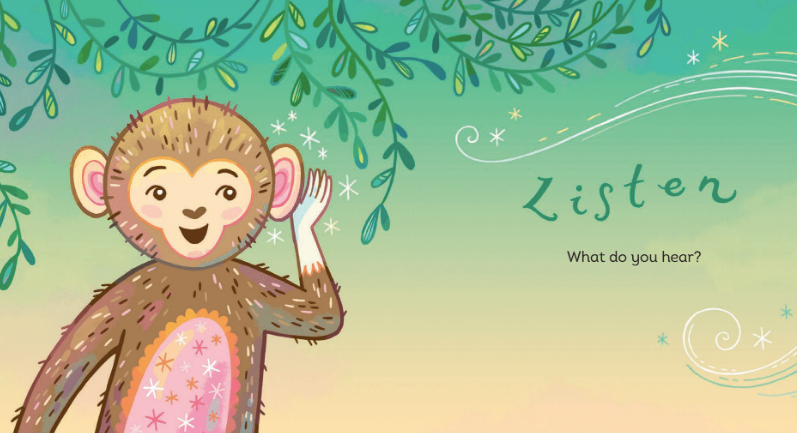 Artwork by Anni Betts from Listen Like an Elephant
 
Anyone else ever feel bewildered when your kids ask you a question that you've already answered three times? ("Um…I told you where the soccer ball/clean towel/vacuum was…were you not LISTENING?!") 
Listening is one of the most important skills kids need in order to be successful in school. The ability to follow the teacher's lesson, follow directions, and really pay attention when friends are talking is at the root of success academically as well as socially. 
The thing is, since listening is a skill, it needs to be practiced like any other. Luckily, there are plenty of super fun and kid-friendly ways to work on it with children–here are a few for you!   
🐘 Read aloud - when children are interested in a story, they'll hang on your every word when you read to them, sharpening their listening skills. 
🐘 Rhythm games  - Call and response-style: create a pattern of sounds using body percussion (claps, snaps, foot stomps, drumming on lap, etc). Children have to listen carefully in order to repeat the rhythm back. 
🐘 Guess the sound - This is a fun one: fill plastic containers or easter eggs with random objects, have children shake them and guess what they are based on the sound. 
🐘 The telephone game - A classic! Choose a phrase (the sillier the better, in my opinion) and whisper it to one child, have them whisper it to the next, and so on. Good listening helps it come out the other end somewhat like it started (or a hilarious version of it…).
🐘 A chime - The long sound of a chime (or you could pluck a guitar string, clink a glass with a metal spoon, anything where the sound lasts for a while) is an excellent focusing tool - ask children to listen until the sound disappears completely. 
🐘 Freeze dance - Another classic: play any upbeat song, and when the music stops, freeze like statues.  When kids are invested in this game, you better believe they'll listen up!  
🐘 Mindfulness - In my board book Listen Like an Elephant (part of our current Big Giveaway link - see below), children practice listening to sounds from left and right and from near and far with Elephant, who has REALLY big listening ears. 🐘
As a bonus, all of these listening exercises bring our attention into the present moment, the very definition of mindfulness. Give some of these a try with your students, or with your own little ones at home!