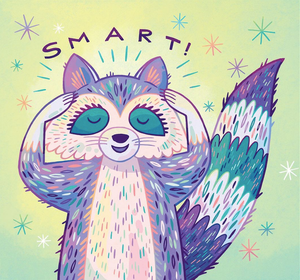 Art by Anni Betts from Peaceful Like a Panda
 
I've talked about the power of positive affirmations before–how simple and fun they are to do with young children, and the science behind using them.  
But hmmm….if only there was a way to reinforce this powerful effect even more? 
Wait, I know. SING THEM! 🎶
I think we all know how I feel about the power of music. 😀 But don't take my word for it–research has shown conclusively that attaching information to a melody makes it significantly easier to remember. For example, how did you learn your ABC's? Maybe with the Alphabet Song, perhaps even before you could speak very well?  
Helping children internalize information by using music works brilliantly (I'm pretty confident about this, I've basically built my career on it). 💫
"I am strong. I am smart. I am kind."
These are the musical messages in the new song I have for you today.  
Imagine a world where children grow up internalizing these beliefs about themselves!  
As we gear up to head back to school (um, how is this happening already?) children can use all of the positivity and self-confidence they can get. Encouraging self-belief and a positive, I-can-do-it attitude are powerful tools to give them.  
Positive affirmations can reinforce that no matter what's going on around us, we always have a choice around our mindset and our attitude! ✨
"Strong, Smart, Kind" is from my most recent album, Songs for Peaceful Pandas Volume 1 which is a companion to my book Peaceful Like a Panda.