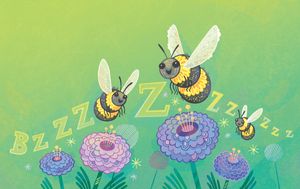 Artwork by Anni Betts from Breathe Like a Bear
"Take a deep breath in, and let the air all the way out." 
I say this an awful lot. 😂 
And for good reason, of course–taking long, deep breaths is one of the quickest and simplest ways, proven by study after study, to calm our children (and ourselves) down. 
But what if we could mix it up a bit? With the same positive results? 
The vagus nerve, which essentially connects the brainstem to the body, has the ability to stimulate the parasympathetic nervous system to relax and calm us, basically telling our brains that all is well. And what activates that vagus nerve? Well, long, deep breaths of course, but also: vocalizing–i.e., making sound, because your larynx (your "voice box") is connected to the vagus nerve as well. 
Any kind of vocalization works, humming, singing, or chanting, for example. For young children here's a super fun and engaging way: imagining you're a buzzy, fuzzy bumblebee! 🐝✨
Try the simple exercise "Be A Bumblebee," from Breathe Like a Bear with your little ones–it combines long, deep inhalations with fun and energetic buzzing on the exhales.
Bonus: we sneak some healthy movement in here too, as we flap our wings up and down and all around! Listen and follow along right here. 🧘🏽🐝
I'd love to hear how you like this one–comment below and let me know! ✨