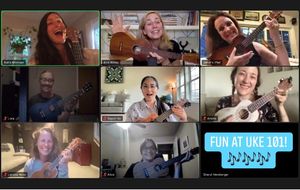 I just led a "Uke 101" training inside my membership, and we had a blast. I taught the basics of playing the ukulele to a group of wonderful educators, many of whom had never picked up an instrument before, but who have the strong desire to bring music to the children they work with. 
Not only did these members have a ton of fun learning how to play a few chords and some simple songs (including a few tunes of mine), but you know what else they did? 
Rewired their brains. 
Literally–they formed new neural connections, helping their brains stay agile and healthy. 
Learning, practicing or even listening to live music have incredibly beneficial effects. And for children, whose brains are rapidly developing, it's even more so. Music enhances brain function in children, from speech development to pattern recognition to spatial intelligence, and the list goes on.
That's why it's a part of everything I do with children (also: it's FUN). 
What's more, making music in a group (like, say, in your kids' yoga class, summer camp, or with your family in the kitchen) improves children's social and emotional skills, helps them learn to work together as a team, and develops their sense of empathy. Studies have also shown that when children play music together, it helps them better tune into other people's emotions. 
So as you're making your summer plans (and maybe you're not quite there yet–we're limping across the finish line here in my house, with three more school days to go 🙄), include music where you can. Whether you're teaching or at home with your own children, seek out concerts, put music on at dinnertime, and create it on your own wherever you can (banging on pots and pans totally counts)! 🎶